[ad_1]

We love our laptops. They're our workspace, and our connection to home when we're away. They let us shop or pick a travel destination. We can use them to zone out to lo-fi music or get our hearts pumping to a high-tempo fitness program.
What we can't always do is protect them from harm. Screens can get scratched. Drinks can be spilled. They can be knocked out of our hands. 
Enter the almighty laptop sleeve. There's a good chance you already have a case for your iPhone or Samsung. We believe you should be giving your laptop the same loving care as your mobile. But just because you've nabbed a Macbook Pro 14 inch case for the protection it offers, it doesn't mean you can't make a statement of style at the same time.
With that in mind, we combed through hundreds of laptop cover cases in order to bring you the best laptop covers that not only provide the best protection for your laptop but can also work as a fashionable accessory.
The 17 best laptop sleeves and cases
Check our special laptop sleeve buying guide after the list to see exactly what you should pay attention to when shopping for a new protection for your Macbook or PC online.
Bellroy: Overall best laptop sleeve
If you're looking to get the most bang for your buck, you can't do any better than Bellroy's Laptop Sleeve. Slim and simple, Bellroy's sleeves are also environmentally sustainable, being made from 100% recycled PET bottles, which means they're both durable and water-resistant.
And if you're worried about zipper scratches, the Bellroy Laptop Sleeve replaces the traditional zipper with a magnetic clasp. A magnetic clasp is not as secure as a zipper, however, it does eliminate the threat of zipper scratches on your favorite devices.
Best for: Money-wise movers-and-shakers that care about the environment.
Fits laptop sizes: Up to 15 inches
Colors: Midnight, Basalt, Limestone + More
Material: Canva Ripstop (an anti-rip material)
Cuyana Tech Carryall: Best laptop case for women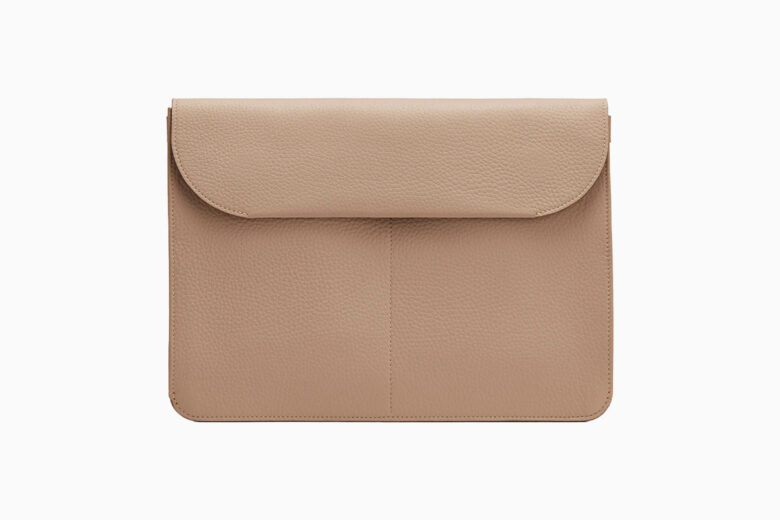 Some days you're just going to have to find a way to take everything with you – your laptop, charger, mobile, pens, papers. It sure would help if your laptop case could carry some of the extra load.
Happily, we've found that the Curyana Tech Carryall fits the bill, and looks good doing it. Curyana's Carryall makes for a nice Macbook Air 13 inch case with a snug fit, plus it features a roomy pocket space for all the rest of your daily items.
On the form side of the equation, the pebbled leather finish makes for a stylish accessory for your business wear that rivals designer work bags. Even cooler: The Tech Carryall can easily snap onto Cuyana's life-changing System Tote.
Best for: Carrying space for days. Ultimate looks for night.
Fits laptop sizes: 13-inch, 15-16-inch
Colors: Cappuccino, Black, Light Stone, Charcoal
Material: Italian leather
Harber London Slim Folio: Best laptop sleeve for men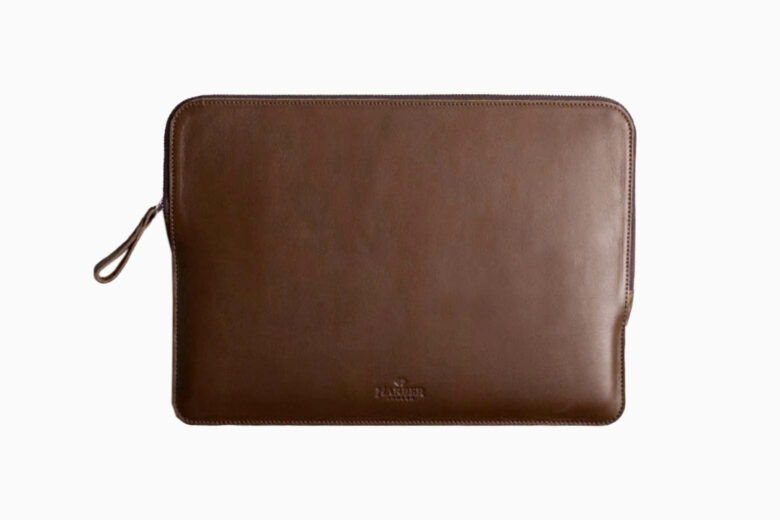 Harber London's Slim Leather Folio Laptop Case No 7 was designed to deliver a lot of protection for your rig without requiring the bulk of heavier cases. It accomplishes this by providing a wool felt lining that does a good job of protecting electronics from dents and dings. 
Additionally, Harper London's Folio sports a rounded zipper that puts a stop to the scratches that come from a regular folio's zipper—a feature we hope more manufacturers will adopt in the future.
Looks-wise, the Folio has a simple, strong appearance that matches the strength of the protection that it provides.
Best for: Simple looks with abundant strength.
Fits laptop sizes: 11-inch through 16-inch
Colors: Tan, Black, Navy + More
Material: Full grain leather exterior, Wool felt lining

Horizn Studios Kōenji: Best nylon laptop cases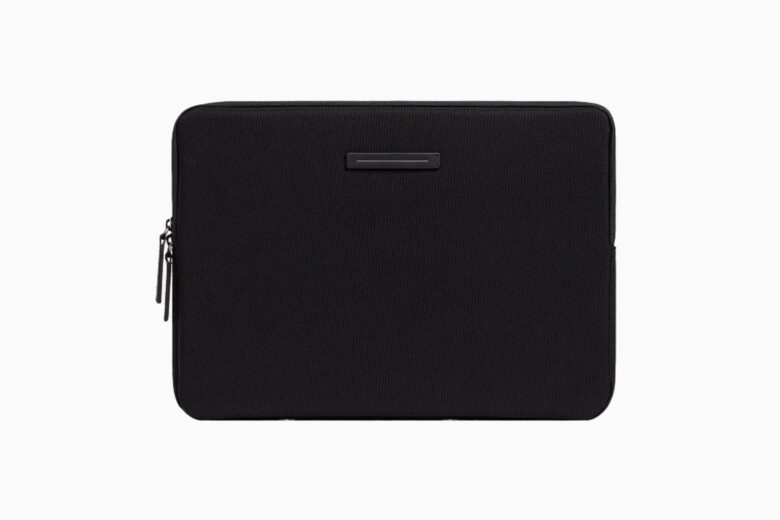 Horizn Studios bundles a whole lot of protection into its understated laptop case. The Kōenji laptop sleeve 13-inch cases are constructed from the very same material that is used to make bulletproof vests. Not only does this mean it can take a lot of wear and tear, but it's also surprisingly light for the amount of protection that it offers.
On top of that, the Kōenji nylon case sports-specific slots for your mobile and charger, plus a pocket for A-4 documents. 
This isn't the first time we've been impressed by Horizn Studios' ability to craft a superior case. In our ongoing search for the best travel luggage, Horizn came across with one of the best carry-ons we've ever had the pleasure of testing.  
Best for: Bulletproof minimalism. 
Fits laptop sizes: 13-inch
Colors: Black, True Red, Sand
Material: Waterproof Ballistic Nylon
Herschel Spokane: Best canvas case for laptops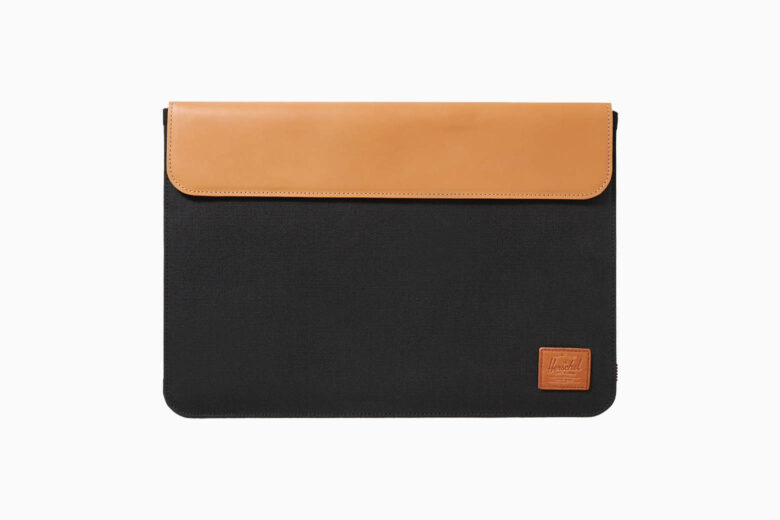 In this era of smooth plastic everything, it's sometimes a tactile relief to go old school with your materials. If you're a canvas connoisseur, we'd suggest the Herschel Spokane Leather-trimmed Canvas Laptop Case.
If you toted a green canvas backpack in your school days, you know the material can take a beating and still protect the contents inside. On top of that, we really took to Herchel's canvas laptop case's stark tan-on-black coloring combined with its simple geometric design patterns.
Best for: Classic canvas meets the digital age.
Fits laptop sizes: 13-inch
Colors: Black (with tan accents)
Material: Cotton-canvas, Leather trimming 
Nomad: Best leather sleeve for laptops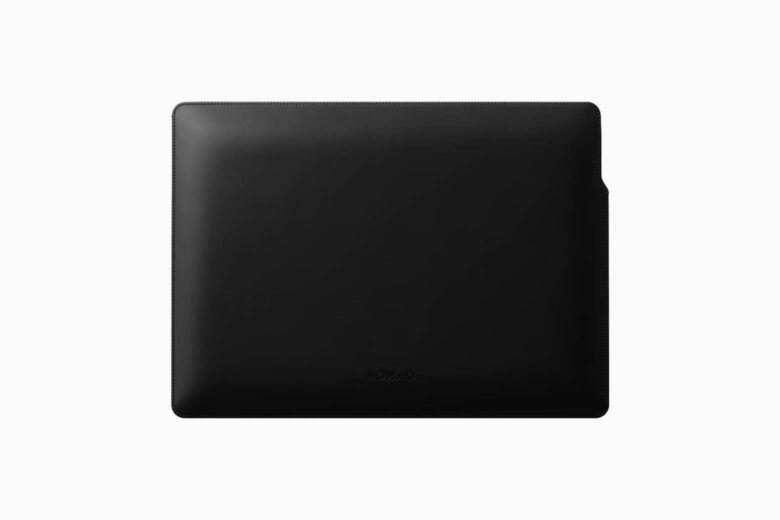 Don't let Nomad's Leather Sleeve fool you, this cover has a lot more going on than just its strong and simple aesthetic. Nomad has compression-molded the sleeve's shell to be a precise MacBook cover.
The sleeve features 48 magnets that snap shut as soon as you've slipped your MacBook inside, meaning the Nomad Leather Sleeve will provide ample protection for your laptop.
Best for: A simple silhouette hiding profound laptop protection.
Fits laptop sizes: 13-inch, 16-inch
Colors: Rustic Brown, Black, Burnt English Tan
Material: Horween Leather
Parachute Felt Sleeve: Best wool felt case for laptop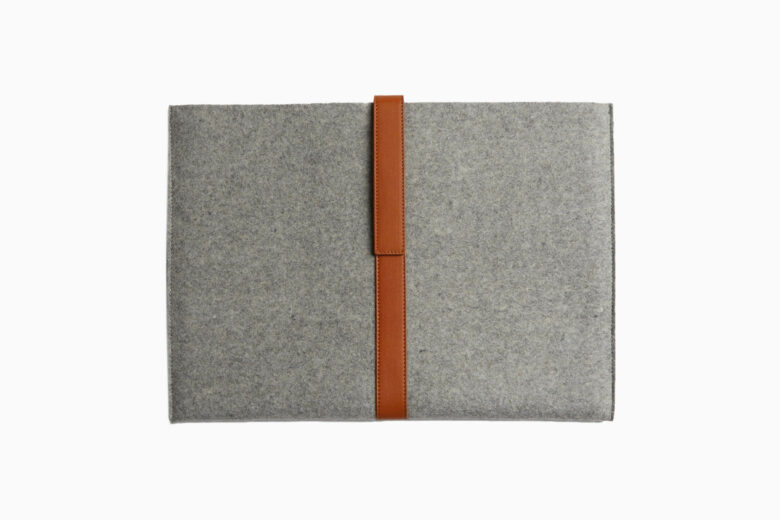 Looking almost like a diary or a journal, Parachute's Felt Laptop Sleeve is made from soft natural wool and a leather strap which makes it a pleasure to handle.
It should be noted that the Parachute Felt Sleeve features an open-top design, which means you'll probably want to slip it into a work bag in the case of inclement weather. 
Best for: Cozy computer protection you'll want to keep close at hand. 
Fits laptop sizes: 13-inch, 15-inch
Colors: Tand and Grey, Black and Charcoal
Material: Wool felt, Leather strap
Incase Designs Hardshell: Best laptop hard shell case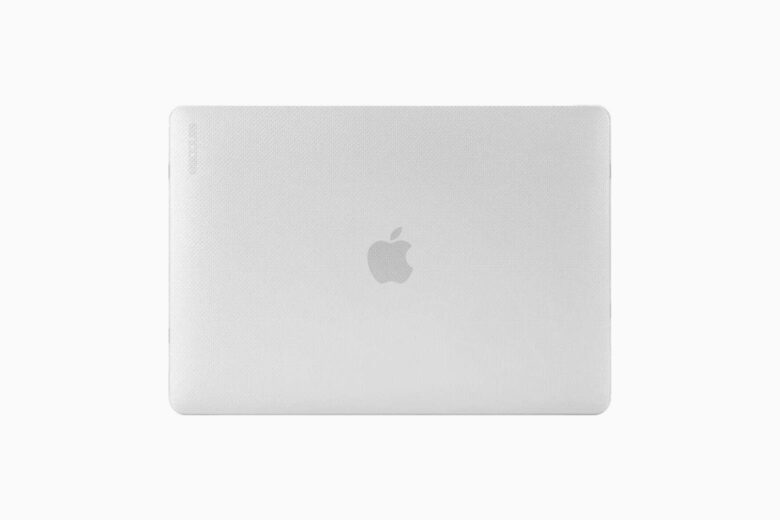 Unlike our previous entries, Incase's Hardshell works more like a second protective skin than a bag or sleeve. Made of plastic, the shell snaps onto your MacBook and has cut-outs for your ports and venting. This allows you to give your Mac a protective outer layer without hiding Apple's famous design features.
The Incase Hardshell fits snugly around a Mac without being too tight, and we've had no problems with cracked corners or with the shell scratching the Mac's surface underneath.
Best for: Invisible protection for your precious.
Fits laptop sizes: 13-inch
Colors: Transparent
Material: Plastic
Aspinal of London City Tech: Best leather laptop bag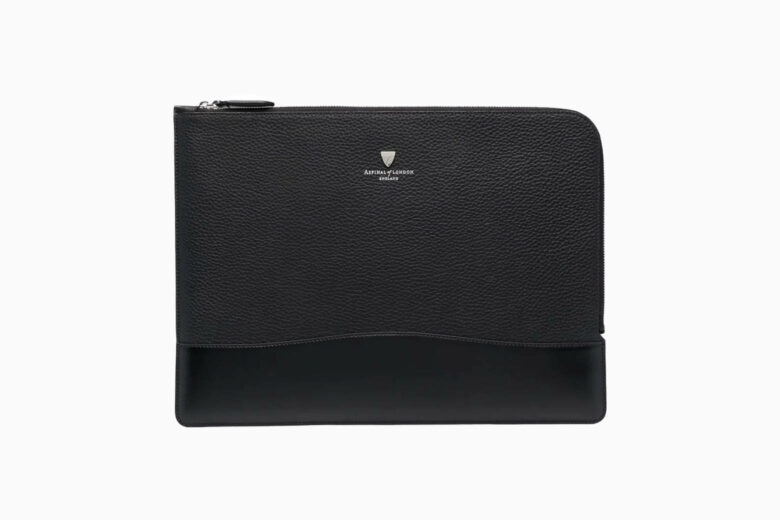 Aspinal of London's City Tech Leather Laptop Bag puts us in mind of vintage leather executive portfolios. The pebbled black texture coupled with its silver logo and zipper give off a classy vibe, making it the kind of laptop bag we'd want to carry with us into high-end business meetings.
The City Tech Bag features an all-around zipper which makes it easy to get at your electronics and documents, and the leather does a fine job of keeping the bag's contents moisture-free.
Best for: Old-school professional portfolio vibes.
Fits laptop sizes: 14-inch
Colors: Black
Material: Leather

Senreve: Best women's laptop envelope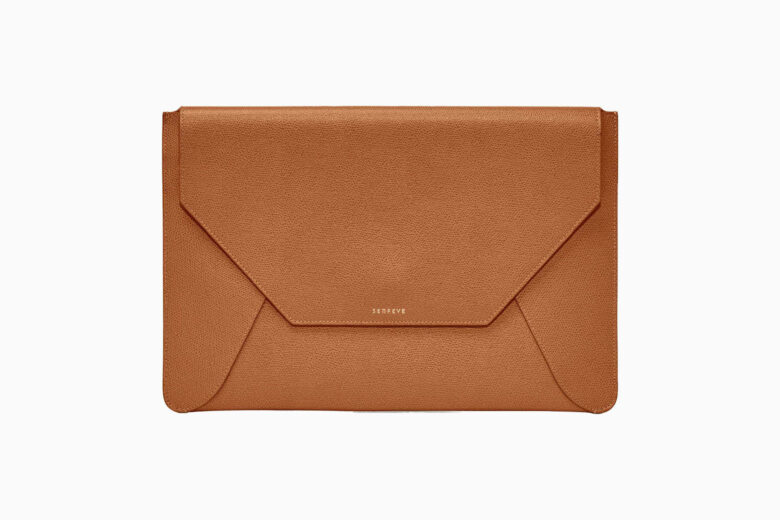 Looking for a laptop envelope that can pass as an evening bag? Then we'd recommend one of the best laptop bags we've ever come across, Senreve's Envelope Laptop Sleeve.
Senreve's Sleeve is impeccably cut, the sharp lines making for a sophisticated-looking accessory. And although it can easily pass for a fashionable bag, Senreve doesn't skimp on function. It can hold a 13" with ease, and still have room to spare in its two external pockets for chargers, mobiles, or anything else you need to keep close to hand.
Best for: A high-class look backed by plenty of baggage-space brawn.
Fits laptop sizes: 13-inch
Colors: Chestnut, Noir, Coral
Material: Leather, Suede
Harber London Magnetic Envelope: Best men's envelope for laptops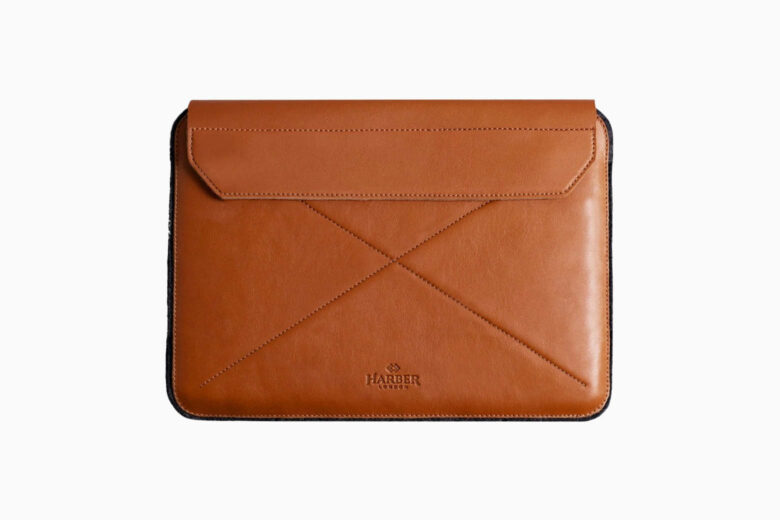 Harber London's Magnetic Envelope Sleeve for Macbooks evokes the wild west with its rugged leather exterior. It's not always easy to find a 15.6 laptop case with any sort of style to it, but Harber London's entry fits the bill nicely.
Because of its overall feel of ruggedness, Harber London's Magnetic Envelope Sleeve is actually going to become even better-looking as it sustains some wear, all the while keeping your laptop safe in its magnet-sealed interior.
Best for: Expecting the unexpected and looking good doing it.
Fits laptop sizes: 13-inch through 16-inch
Colors: Tan, Black
Material: Full-grain leather
Mulberry City: Best laptop sleeves with hand straps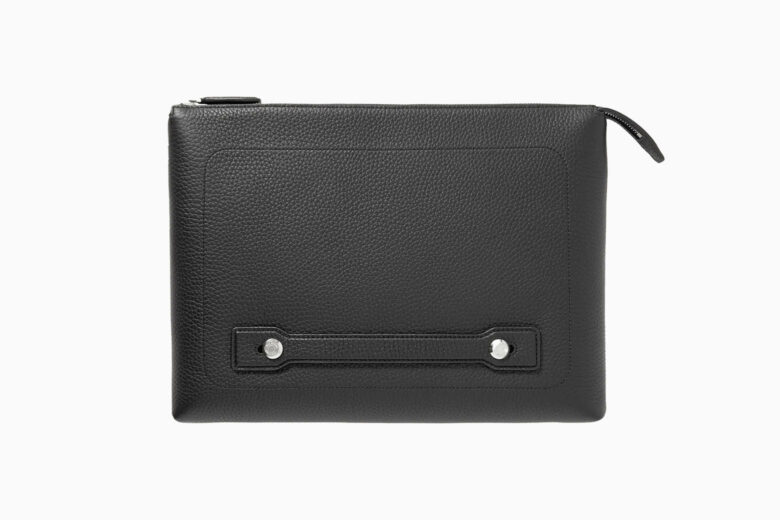 If you've had to carry a laptop around all day, you know they can eventually cause some strain in your hand. Tired fingers can lead to slippage, and there goes your laptop, nose-diving to the unforgiving floor.
If hand-strain is a part of your daily grind, we'd suggest the Mulberry City Full-Grain Leather Laptop Case with hand straps. 
Best for: Trendsetting hand-based security.
Fits laptop sizes: 13-inch
Colors: Black, Forest Green
Material: Leather

Herschel Anchor: Best laptop sleeves with padding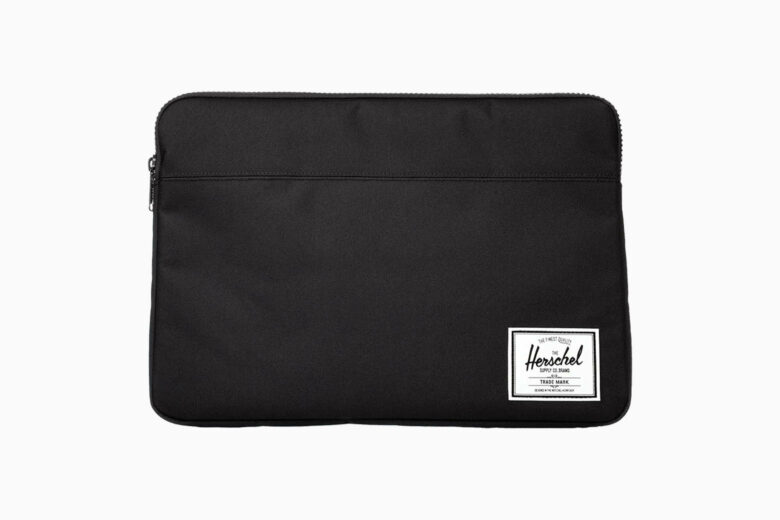 Herschel's Anchor Sleeve is a simple MacBook Air sleeve that delivers on its promise—a lot of padding for your laptop.
Featuring a minimalist design, the biggest boasting point of the Anchor Sleeve is all the protection it delivers thanks to its padded and fleece-lined interior and its tough-guy exterior. We'd recommend this one for the students in your life who don't take as much care of their electronics as they should.
Best for: Minimizing your cost, maximizing your MacBook protection.
Fits laptop sizes: 15-inch, iPad Mini
Colors: Solid Black, Raven Crosshatch, Ash Rose
Material: Canvas
Supcase Beetle: Best clear laptop case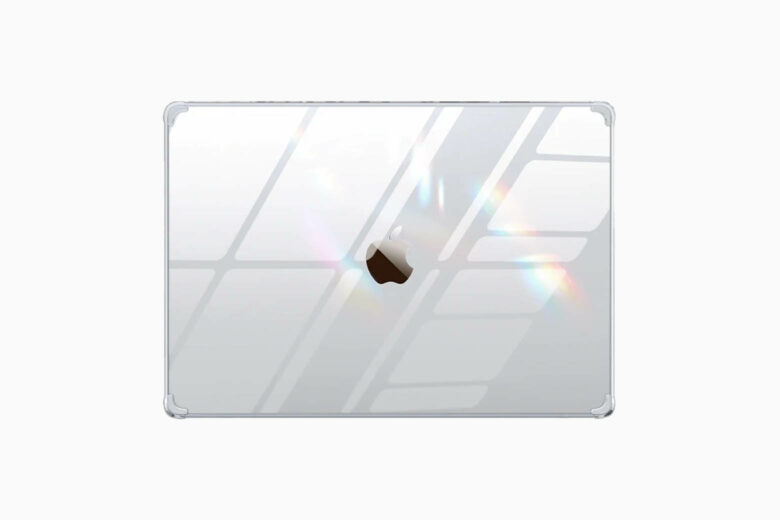 If you want to keep your laptop's casing clean, we'd suggest you give Supcase's Unicorn Beetle Clear Case a whirl. Unlike bags and sleeves, the Beetle Case snaps right onto your laptop, acting like a shatterproof second skin.
The Clear Beetle Case not only protects your laptop from scratches, liquid splotches, and fingerprints; it's also an easy wipe-off when grime does rear its ugly head. And don't worry about overheating; the case is designed to allow your laptop to keep itself fully vented, so heat won't build up.
Best for: A little bit of polycarbonate goes a long way.
Fits laptop sizes: 16-inch
Colors: Transparent
Material: Polycarbonate
Aqua Quest Storm Sleeve: Best waterproof laptop cover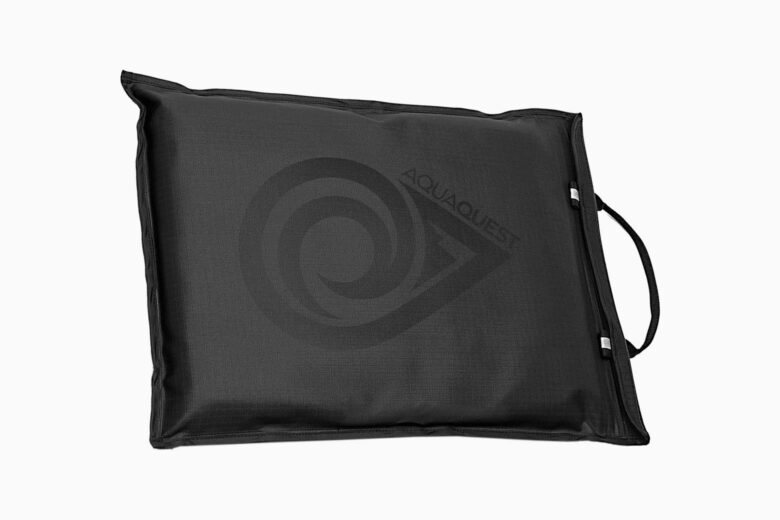 Ahoy water-lovers! If you work around bodies of water then the safety of your electronics is always going to be a concern. Thankfully, Aqua Quest's Storm Laptop Sleeve can help alleviate some of that worry.
The Storm Sleeve does a fantastic job of keeping water away from your valuable electronics. The welded seams, double ziplock seal, and removable neoprene sleeve provide a ton of hydrostatic resistance. And as an added bonus, the bag looks cool too.
Best for: No forecast? No shelter? No problem.
Fits laptop sizes: 11-inch through to 17-inch
Colors: Black, Blue, Red
Material: Ripstop nylon
Supcase Unicorn Beetle: Best laptop case for absorbing shock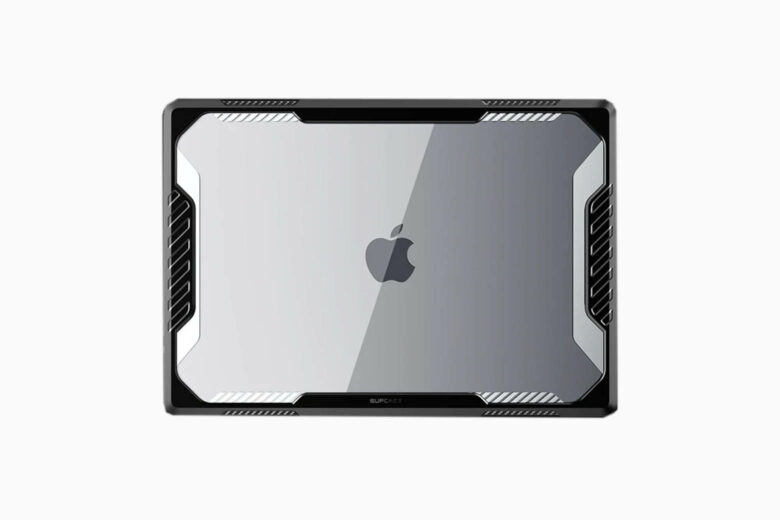 This is the big-boy and big-girl range of protective laptop cases. If your work or play takes you off-roading, camping, mountain-climbing, or anything else that involves bumps and tumbles, then we'd strongly suggest you consider Supcase's Unicorn Beetle for your vulnerable laptop.
The Unicorn Beetle boasts military-grade drop protection, meaning you'd have to put some serious effort into hurting your gear before you scratched the cover, never mind the laptop underneath. 
Best for: Bumps? Drops? Bring it.
Fits laptop sizes: 16-inch
Colors: Black
Material: Polycarbonate

Tomtoc 360°: Best budget laptop sleeve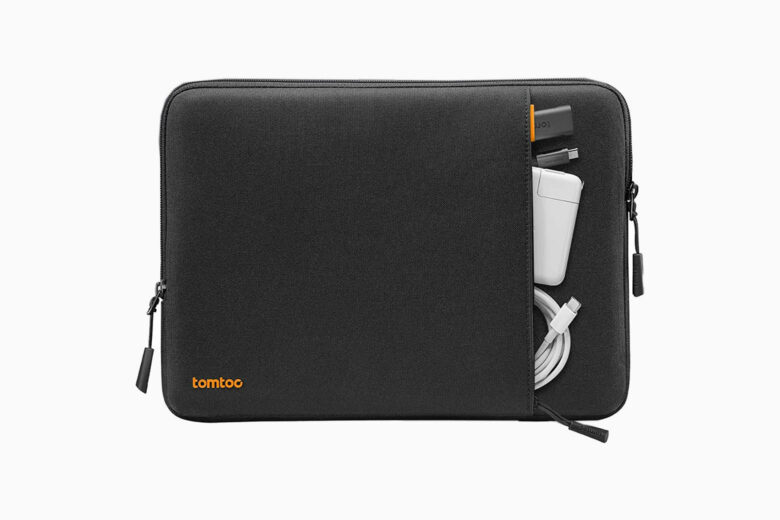 Not everybody feels the need to dish out for an especially snazzy laptop sleeve or case, they just want a lot of protection for a reasonable price. 
Enter Tomtoc's 360° Protective Laptop Sleeve. It brings together CornerArmors, thick edges, and has passed the military's drop test. Its exterior is made from recycled products, making it not only scratch and water-resistant, but also environmentally sustainable. It's not the most stylish on our list, but it still looks clean with its simple design and does a fine job of protecting your screens from scratches.
Best for: "Get 'er done" at an easy-to-handle price.
Fits laptop sizes: 13-inch, 14-inch, 16-inch
Colors: Black, Dazzling Blue, Pink
Material: Recycled plastic fabrics (from recycled plastic bottles)
Buyers guide: how to choose your laptop sleeve, envelope, or case
What is the difference between sleeves, envelopes, and cases?
Sleeves usually do not feature handles and are meant to be carried in your hand or under your arm. If they do have handles, they tend to be small, as opposed to shoulder straps. 
Also, sleeves tend to be smaller than a full laptop bag. This means they're suited more for smaller laptops, tablets, and netbooks (although this is changing as more manufacturers enter the market). 
Additionally, sleeves are quite often made from flexible materials.
Laptop envelopes also tend to not feature handles. Looking like actual envelopes, they have a flap that folds over the top and down the length of one side, as opposed to being closed with a zipper.
Laptop cases are not bags or carrying cases; instead, they're like a protective shell that snaps directly onto the laptop. They can be permanently left on the laptop, and don't interfere in any way with you using your computer.
Cases are a good choice if you're solely looking for protection for your laptop's exterior, and you're not concerned with how you're carrying it and its accessories around.
Which laptop cover is best?
If you want protection for your laptop, but still want to show off its pleasing design, then you should look at something like Incase Designs Hardshell or Supcase Beetle Clear Case. On the other hand, if your laptop is in for a lot of rough handling, then you'll want to go with something more geared towards surviving shock impacts, like Supcase's Unicorn Beetle. 
If you don't mind your laptop being covered up during transport, then Harber London's Slim Folio, Bellroy's Laptop Sleeve, or the water-resistant ballistic nylon of Horizn Studio's Kōenji Case are a solid combination of protection and pleasant aesthetic design.
If you're in need of a lot of carrying space, Cuyana's Carryall is a good bet. 
What features should you look for?
Protection
The first point to consider is how much protection you need on a daily basis.
If, for example, you work in the world of finance, you probably don't have to worry about getting a case that is super-shock resistant. On the other hand, if you're out in an oil-field doing surveys all day, it's a good idea to invest in a shock-resistant case.
Environment and materials
Next, how much exposure to water and/or the elements do you deal with in your routine? If you're indoors most of the day, then you can lean more into aesthetics and perhaps choose a carrying case with a leather or wool exterior. 
But if you're out in the weather all day, or you're working near water, then you're going to want to consider a tougher material like polycarbonate or Ripstop nylon.
Closing mechanism
Your environment also factors into how your sleeve, envelope, or case closes. Some of them don't actually fully close at all. Others only have a single magnet to keep them closed, which might be too easy to accidentally pull open, spilling all your gear on the ground. So don't overlook your choices' closing mechanism.
Extra space
Next, what else are you lugging around with you? If you're constantly juggling not only your laptop, but also your mobile, a recharger, business cards, a notepad, pens and pencils, and so on, then, of course, you're going to want to make sure your selection features extra pockets or slots.
Frequently asked questions about laptop sleeves
Are sleeves good for laptops?
Absolutely. Accidents happen—you drop things, liquids get spilled, your watch can scratch a screen that you're carrying under your arm. A laptop sleeve can end up saving you the cost of a replaced screen, or possibly even the cost of an entirely new laptop if the fall is bad enough.
What kind of laptop sleeve should I get?
Your main focus should be just how rough you are on your laptop on a daily basis. If your job or lifestyle exposes your electronics to a lot of inclement weather, dirt, or bumps, then you should consider a heavy-duty protective case. If however, you're in an indoor environment most of the day, then you may want to figure in the aesthetics of your laptop sleeve as part of your overall presentation.
Should a laptop sleeve be tight or loose?
The best word to describe how a laptop sleeve should fit is "snug". You don't want the casing to be so tight that it's a struggle to get your laptop in there. That's going to result in the corners and sides of your laptop getting scratched up, and may even break the sleeve. You also don't want the fit to be too loose because having your electronics rattle around inside the sleeve during transport isn't good for its delicate insides.
[ad_2]

Source link